Last Orders! A History of Westbury's Hostelries
.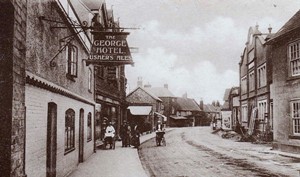 It's festival time again in Westbury and once again, we are bringing a fascinating talk to festival folk.
Local historian and chair of the Museum, Sally Hendry, is taking us on a virtual pub crawl through the history of the pubs and inns of Westbury, all while sitting comfortably in your chair at the United Reform Church.
Sally's research has turned up lots of interesting facts. Did you know that there were once more than 20 hostelries in the town and the drink of choice could be gin and sugared water?  There were riotous dinners through to robberies and publicans were fined for watering down their beer, serving out of hours and allowing illicit gaming. From inquests to strike meetings, pubs were at the centre of people's lives here in the town.
Do come along and bring your own memories and reminiscences of the pubs that have now closed – perhaps you remember The Oak, The White Lion and The George?
Tickets are £4 available from the Festival website, the box office in the High Street at SW Hearing or on the door.